Kats Mom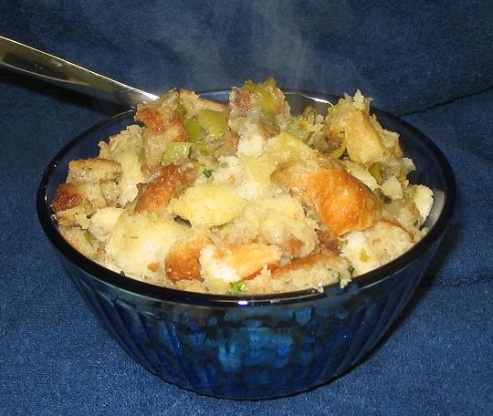 This recipe has been passed down in my family for generations. It's absolutely uncomparable to any other stuffing I've ever had. It's a family favorite!

I made this for Easter dinner. It is similar to my favorite recipe, except mine has more onion and celery. . I like it when they don't have chicken broth in them. Next time I will make it in the crock pot (since I like the way it melds together). Thanks for posting your family favorite, Twinkle. Roxygirl
Melt butter in deep kettle.
Add onions and celery, simmer until slightly soft.
Add rest of ingredients to the kettle and toss with forks until bread cubes are well coated.
Transfer to a covered baking dish and bake for 30 minutes at 325 degrees(possibly longer for a crispier affect).