Amarillo Cheese Fries and Dip - Like the Lone Star- Copycat
Junebug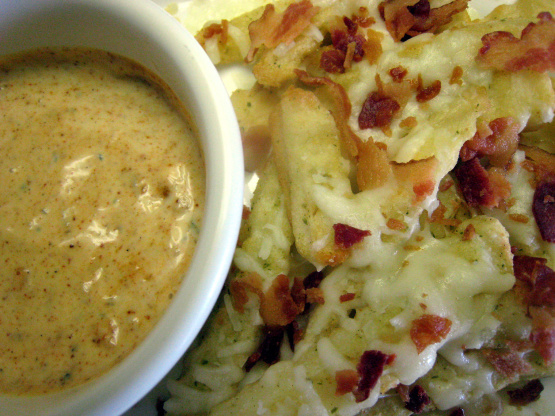 When our DD and SIL came for a visit, they introduced us to two mouthwatering recipes which they prepared as a birthday treat. They prepared these fries along with Marinated Grilled Steaks, like The Outback. Needless to say, it was an absolutely delicious meal. Hope you enjoy this as much as we did.

The dip was really the shining star here. You could probably use just about any french fry you like. I had several partial bags of cheese leftover and just dumped them on with a few jalapeno slices. Nice & easy alternative to ketchup!
Preheat oven and bake the fries according to package directions.
Meanwhile, combine ranch dressing and taco seasoning; set aside.
When fries are done, turn off oven.
Sprinkle the cheese and bacon over the top of fries.
Return to hot oven only until the cheese is melted.
Serve with the sauce mix for dipping.