Chilicat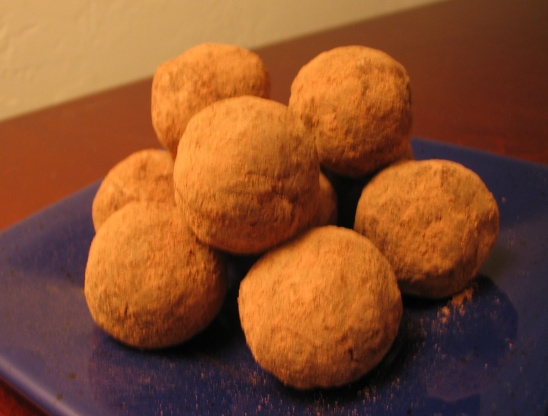 A cross between a cookie and a candy wonderfully flavored with chocolate, coffee and almond.

These are just like Amaretto truffles, only not as fattening (a good excuse to eat more!) The Amaretto is nice and strong when you first make them, but I'm sure it will mellow over time. I made my amaretti from scratch, which means I've got enough left over for a few more recipes of Yum Yums. Excellent! :)
Combine chocolate chips, corn syrup, sugar, instant coffee and water in a heavy saucepan.
Heat over low flame until chocolate is melted, stirring constantly. Remove from heat.
Stir in Amaretto, cookie crumbs and walnuts. Cover and chill for 30 minutes.
Shape chilled mixture into 1-inch balls; roll in cocoa.
Store tightly covered in the refrigerator.