Amaretto Raisin Oven-Baked French Toast
Rita1652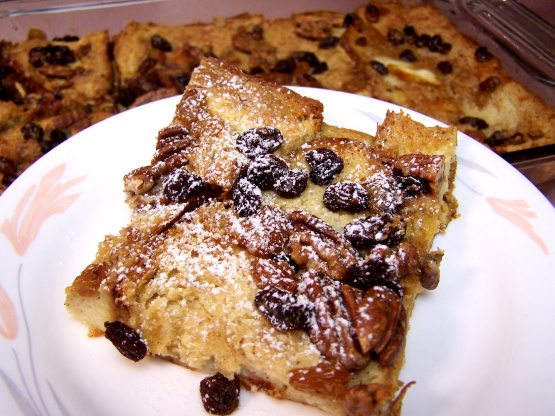 This recipe has been a "fixer-upper" for a long time now. Have being playing around with ingredients and quantities and can't tell you where I found the original recipe. This is by no-means diet friendly!

use 11 ounces Challah bread, 5 tablespoons butter not margarine, Pandan Essence out of almond extract, mixed raisins, skipped the half and half, pecans were used that`s what I had on hand, 5 eggs and cut back on the sugar by 1/2. I pressed down on the bread to help it absorb the egg mixture. I didn`t invert because I thought this was very eye appealing as is. I can see if the nuts raisins and sugar were placed in the pan first as in a pineapple upside down cake I would have inverted. I`m sure my version is still high in fat but not 56 percent of the DV. It sure did taste really really really really good. Thank you!
Preheat oven to 350°F.
Spray 13x9" baking dish, generously.
Soak raisins in 2 tablespoons of Amaretto only, add 1 tablespoon more if needed, after raisins are plumped, drain.
Butter both sides of bread and place in baking dish, single layer, covering the bottom of dish.
In a bowl, toss almonds with sugar and sprinkle all over the bread.
Drizzle maple syrup and Amaretto-soaked raisins over almonds.
In a bowl, mix eggs, vanilla extract, almond extract, half-and-half, milk, cinnamon and nutmeg.
Pour evenly over bread slices.
Let baking dish rest for 30 minutes, before placing in oven.
Bake for 30-45 minutes, until brown.
Working rapidly, invert on serving tray, cut into squares, and sprinkle with powdered sugar, if desired.
Enjoy and serve piping hot!