BekW8670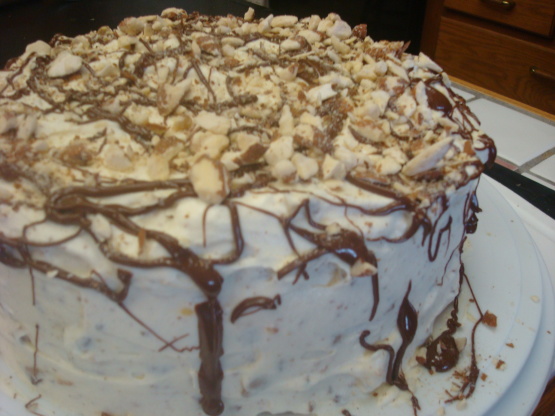 This is a dessert for a special occasion! It looks good, and it smells good, ...it is good! I used up some Amaretto that I'd had for ages. Now, I get asked for it, so I had to buy another Ameretto! Oh well!
For the cake

1

(18 1/4 ounce) box yellow cake mix

1

cup amaretto-flavored nondairy liquid creamer

1

cup amaretto liqueur

3

eggs
1⁄3 cup vegetable oil

For the filling

1

(3 1/2 ounce) package vanilla instant pudding mix

1

cup amaretto-flavored nondairy liquid creamer
1⁄4 cup amaretto liqueur

2

cups heavy cream, whipped (heavy cream has 36% to 40% milk fat)

4

(1 1/2 ounce) chocolate-covered english toffee bars, chopped (such as Heath bars)

1

(1 1/2 ounce) chocolate candy bars, melted
1⁄2 cup almonds, sliced
To make the cake:.
Preheat oven to 325°F (164°C).
Grease and flour three 8-inch baking pans.
Mix together the cake mix, 1 cup amaretto flavored creamer, 1 cup amaretto liqueur, eggs and oil till blended.
Distribute cake batter evenly between the three cake pans.
Bake in preheated oven for 15 minutes, making sure the cake layers do not over bake.
Allow to cool completely before icing.
To make the Amaretto whipped cream filling:.
Combine pudding mix, 1/4 cup amaretto liqueur, and 1 cup amaretto flavored coffee creamer. Set aside for 5 minutes until thickened.
Fold the whipped cream into the amaretto mixture, then stir in the crushed coffee toffee bars.
Use to fill and frost top, (don't frost the sides).
Drizzle cake with melted chocolate bar and sprinkle with almonds.
Refrigerate until ready to serve.