Jostlori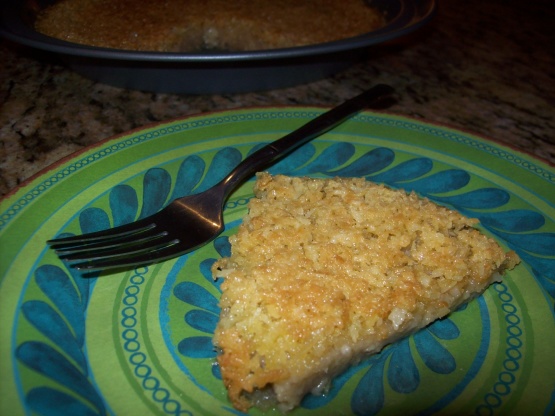 This pie is super quick and easy to put together! It also makes it's own crust. Great for a last minute dessert.

Tasty and SOOO easy to make! Loved the amaretto and the chewy coconut together! It was a bit eggy, which doesn't bother me, but just something to consider if serving it to guests who don't care for eggy-tasting desserts. Very nice with a bit of whipped cream and a cherry for a pop of color, thanks for posting! Made for Sweet December Tag 2014
Beat the butter and sugar at medium speed of an electric mixer until light and fluffy. Add eggs; beat well.
Add the milk, amaretto, and flour, beating well. Stir in the coconut.
Pour the mixture into a lightly greased 9-inch pieplate. Bake at 350 degrees for 35 minutes or until set. Cool completely on a wire rack.