Katzen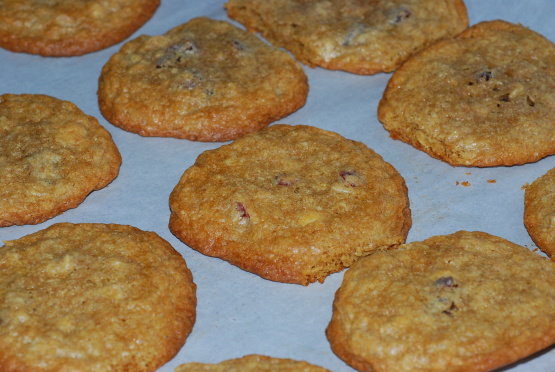 These are similar to Recipe #161166 but I believe I have change it up enough to warrant a new post. These are a delicious change of pace from plain ol' chocolate chip cookies, and I love to make them as a treat for Christmas gift tins! Good luck staying out of the dough--it tastes even better than the finished product! ETA: I am editing the recipe following Katzen's review--this year I think I have gotten it right :).

Top Review by Katzen
These cookies tasted good - the almond flavouring came through well - as I had no Amaretto, I subbed 1/2 tsp almond extract for it. That was a great twist to these cookies! I also used white chocolate chips instead of regular chocolate chips... I swear, my hands just picked up the white ones instead! What I found was that they spread out alot (even though I did refrigerate the dough), and were quite thin - thinner than I expected. I wondered if not grinding the oatmeal would help with that, or even adding some ground almonds to add more texture, and thicken the dough a bit. I did find the additional 2 tbsp of flour and oatmeal confusing - I wasn't sure if I was supposed to grind the second bit of oatmeal or not. I think with a bit of tinkering on the texture, these could be awesome cookies! Thanks, SV! Made for PRMR Tag.
Preheat oven to 375.
In a medium bowl cream butter and sugars until smooth. Add eggs, vanilla, and amaretto then cream again.
In a separate bowl mix flours, salt, and baking soda. Add to wet mixture little by little.
Fold in chocolate chips and craisins. (At this point I highly recommend chilling the dough! Trust me, it is the key to yummy choco chip cookies!).
Drop by level tablespoons onto greased cookie sheets and bake 9 minutes or until golden brown.