CIndytc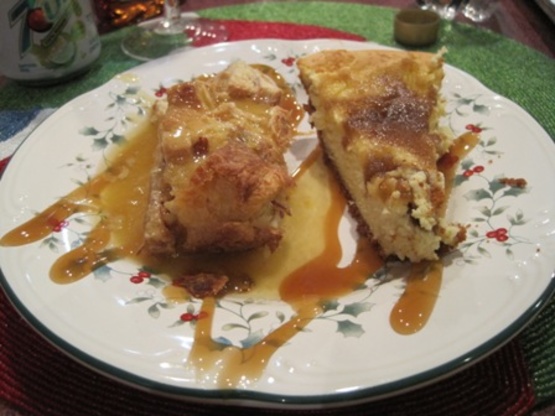 This recipe is from "Savory Faire" cookbook. It is very easy to make and is wonderful.

Oh WOW!! This bread pudding was totally decadent. Your directions were easy to follow. I used a whisk for stirring the sauce. I found it easier to keep the liquid moving so the egg wouldn't curdle. I only used 1 tablespoon of almond extract because I thought 2 would be too strong. The flavor was to my liking, but next time, I might be more brave and add more. I made this for family but it is nice enough to serve to company. Thanks Susan, for sharing a wonderful recipe.
Place bread cubes, half and half, sugar, eggs, almond extract and almonds in large mixing bowl.
Mix until well combined.
Pour mixture into a buttered 9 x 13 inch pan.
Bake at 350 degrees F.
for 35 minutes or until set.
When pudding is almost finished baking, place butter in a saucepan and melt slowly.
Add powdered sugar and beaten egg.
Mix quickly so that the egg doesn't cook before it is incorporated.
Cook until smooth and incorporated.
Add almond liqueur.
Cut pudding into 12 squares and serve warm with warmed sauce and whipping cream.
NOTE: I found it easier to mix all liquids and sugar together first, then add bread.