Mercy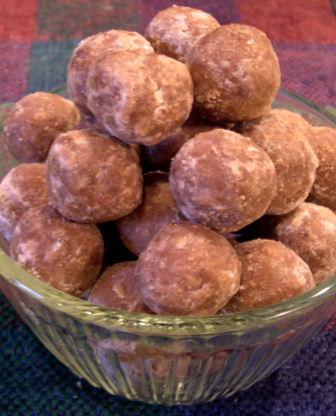 Traditionally, I make a double-batch of bourbon balls every Thanksgiving weekend in preparation for gifting during the holiday season. The candies are great and everyone loves them, but I just can't stand the taste of bourbon, in any shape or form. A couple of years ago I raided the liquor cabinet and developed a sauced-up holiday candy that I can eat too! Now I annually produce double-batches of bourbon balls and amaretto bonbons.
Wonderfully yummy and easy to make.
Blend all the ingredients together and shape into 30 one-inch balls.
If the mixture turns out too wet/dry, balance it out by adding more powdered (icing) sugar to dry it out or more liquor to moisten it up.
Roll the balls in extra powdered sugar, cocoa powder or chocolate milk powder.
Store in an airtight container for at least one week before sampling.
I have also successfully stored them in the refrigerator and in the freezer.