Annacia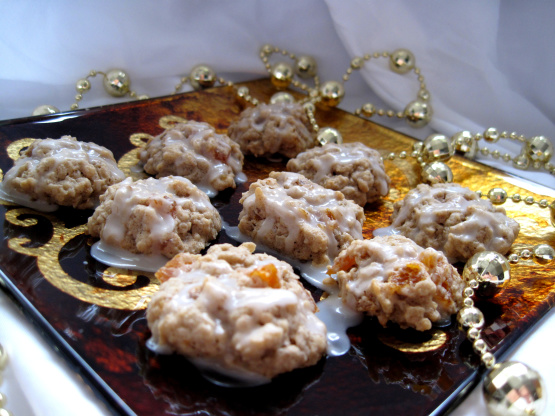 This makes a very healthy tasting, chewy cookie....it isn't a crisp cookie. I had it on a Christmas Cookie Exchange this year, and really enjoyed it! Originally authored by Brenda Bragg from Ohio. Cook time is actually 8 minutes per cookie sheet, I just increased the cooking time to accomodate multiple cookie sheetfuls!

Where do I start? I guess with saying that these cookies are just exqusit. At my first tast my eyes opened wider and I heard mmmmmmmmmmmm coming from me. A couple of hrs later DH came in the house and I made him close his eyes and open his mouth into which I placed a cookie, his eyes popped open wide and wow escaped him. His next words were "Oh please, say that you'll make these again". I will! They are so very easy and give back so much in taste and texture. I used Frangelico as I'm out of amaretto and skipped the almonds (for DH), Used quick oats because I wanted a finer texture, Splenda brown & white "sugars" and egg white for the whole egg. When they came out of the oven after 8 mins they were wonderful tasting but when they had cooled and been topped with the glaze, well, the word stellar comes because they are absolutely stars in the cookie kingdom. I made the recipe for 2 dozen and got 20 cookies (wouldn't want them any smaller as they were bite size already). You might want to make more because the two of us will have wiped out the 20 cookies long before bedtime! Thank you breezer, thank you so much!!
Beat butter at medium speed of an electric mixer until creamy. Gradually add the brown sugar and 1/2 cup sugar, beating well. Add the egg and 1 tbsp of the amaretto, beating well.
Combine flour and baking soda; add to the butter mixture, beating well. Stir in the oats, apricots, and almonds.
Drop by rounded teaspoonfuls onto ungreased cookie sheets. Bake at 375 for 7 to 8 minutes or until lightly browned. Cool 1 minute on cookie sheets before removing to wire racks. Let cool completely.
Combine the powdered sugar and 3 to 4 tbsp amaretto, stirring until smooth. Drizzle the amaretto glaze over the cookies.