Hadice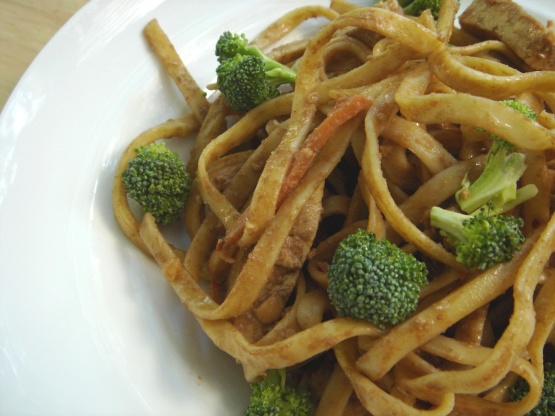 By far the best and healthiest Thai Peanut I've EVER tasted. It's highly requested by family and friends!!! This quick recipe is just for two people, but it doubles and triples extremely well when we have company over. Give it a try!!

Top Review by paull
When cooked exactly as per the provided recipe, I found the sauce to be too thick (my garlic was burning at 2 minutes, too), and the fettuccine far too large. In later attempts of this recipe, I shot for an "idiot version" pad thai: I combined steps 2 and 3, and shortened the cooking time to about 90 seconds total, used a packet of re-hydrated rice stick noodles instead of the fettuccine, and added 1/4 - 1/2 cup of hot water at the very end, which made the sauce more creamy. My variation has made it into my family's regular menu rotation!
In a large pot, cook fettucini as directed. Towards the end of the pasta cooking, add the broccoli into the pot to cook for approximately 3-4 minutes.
In a greased large saucepan, heat garlic on med-high heat for 2 minutes.
Add red pepper flakes, ginger, and brown sugar into the saucepan. Allow to cook another 2 minutes.
Add soy sauce, rice wine vinegar, and peanut butter to the saucepan. Use a spaghetti spoon or whisk to mix in the peanut butter to the liquid to form a sauce.
When the sauce begins to bubble, add the cooked pasta/broccoli to the saucepan. Mix well. Add the carrot. Mix well to prevent clumps.
Enjoy!