Alton Brown's Chipotle Smashed Sweet Potatoes
ChefLee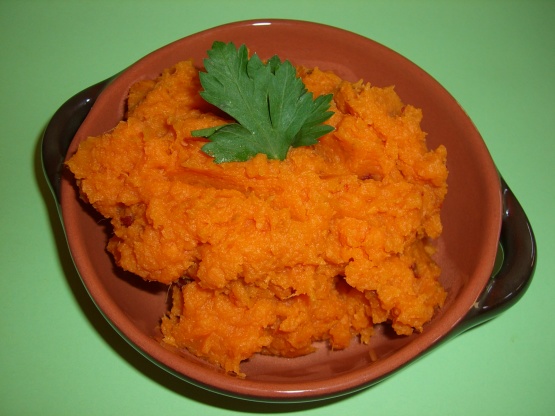 This is a recipe from Alton Brown's show Good Eats. (He is my hero!) It is modified from the original by using 1/2 tsp instead of 1 tsp of Adobo sauce and extra salt. A great side to go with a steak and a salad!

Here's a solution to the chipotle in adobo problem--when you use this product, you invariably never use the entire can. Take a plastic ice cube tray and place one pepper in each well and then distribute the adobo sauce among the set of peppers. Freeze and store in a poly bag. Now, when you need chipotle in adobo, take one cube and dice it. (Also works for tomato paste!). Enjoy!
Put cubed potatoes into steamer basket and place steamer into a large pot of simmering water.
Steam potatoes for 20 minutes or until the potatoes are fork tender.
Add butter to potatoes and mash with potato masher.
Add peppers, sauce, and salt and continue mashing to combine.
Serve immediately.