Alton Brown's Chewy Cookies
Pam-I-Am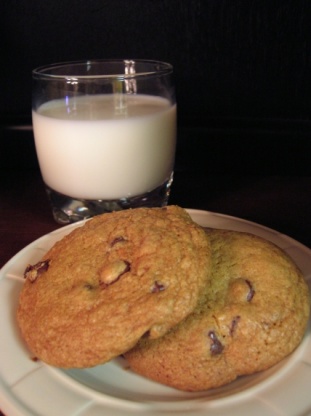 This is Alton Brown's recipe for Chewy Cookies. I haven't tried it yet. I thought I'd add it here so I could have it in my cookbook.

I've made this recipe SEVERAL times, and it gets better and better each time. Make sure you not only melt the butter but also let it brown a bit for a more enhanced flavor. Plus it is imperative you let it chill for at least 2 hours in the fridge before making cookies.
Heat oven to 375°F.
Melt the butter in a heavy-bottom medium saucepan over low heat.
Sift together the flour, salt, and baking soda and set aside.
Pour the melted butter in the mixer's work bowl.
Add the sugar and brown sugar.
Cream the butter and sugars on medium speed.
Add the egg, yolk, 2 tablespoons milk and vanilla extract and mix until well combined.
Slowly incorporate the flour mixture until thoroughly combined.
Stir in the chocolate chips.
Chill the dough, then scoop onto parchment-lined baking sheets, 6 cookies per sheet.
Bake for 14 minutes or until golden brown, checking the cookies after 5 minutes.
Rotate the baking sheet for even browning.
Cool completely and store in an airtight container.