Alton Brown's Baked Brown Rice
ChefLee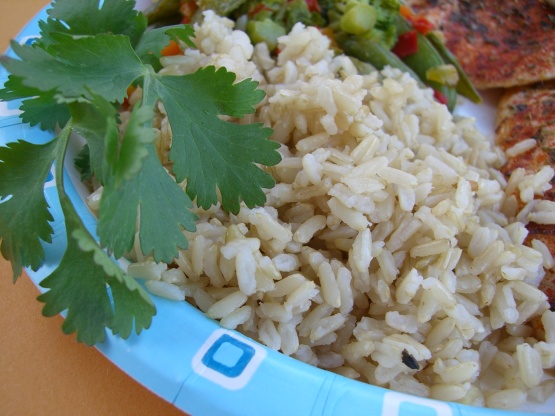 This recipe comes from Alton Brown and it's the only way we have rice anymore. My servings are quite a bit smaller than his, though! You can use chicken or veggie broth in place of the water, or add herbs and spices.

Perfect! My rice cooker does a great job on white rice, but brown is always a little too sticky. This made perfect, fluffy brown rice. Doubled the recipe, used my teakettle to boil the water then combined it with the butter before adding rice. Baked in a covered corningware dish.

Also, rice cooked this way is handy for OAMC. Package the rice in microwaveable bags while it's still warm, then freeze. I get great results from the Glad steamable bags - nuke 2c of rice for about 4-5 minutes.
Preheat oven to 375ºF.
Boil the water and add the butter and salt. Stir to dissolve salt and melt butter.
Place the rice in an 8" casserole dish. Pour the boiling water mixture over the rice and stir.
Cover with foil and bake on the middle rack for 1 hour.
Fluff with fork and serve.
This rice also refrigerates and reheats fairly well, but it's best freshly made.