Alternative Rice Crispy Treats
berry271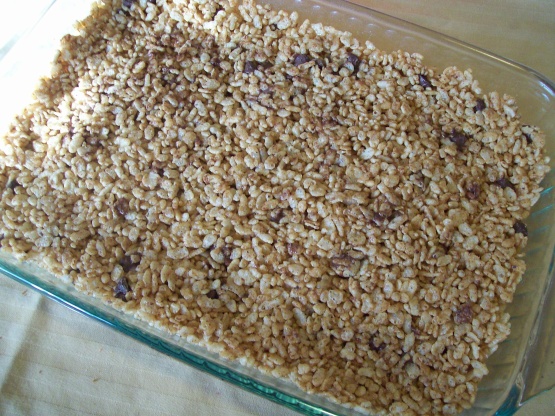 A sweet treat that is a healthy alternative to the traditional... This goes over great at sumer parties! I actually got the recipe from the Ellie Kreiger, on The Food Network.

I got this recipe from Ellie Krieger's book So Easy. There she says to use 3/4 cup each of honey and peanut butter. It took me a little while to warm up to these. At first I thought the honey flavor was too strong, but I enjoy them now. I made mine with square shaped cereal, and not puffs. They fall apart pretty easily, and I wonder if the puffs would hold their shape better. I didn't add the cherries, but if I make again, I might. In the book Ellie says any dried fruit and also chocolate chips would work as an add in.
UPDATE: I made these again this weekend and using the puff shaped cereal did seem to hold together this time. I used chocolate chips as an add in instead of the cherries and I substituted almond butter for the peanut butter because my husband is avoiding peanuts. This worked out well. I tried the 1/2 cup each of honey and nut butter that this recipe suggest but in the future I will again use the 3/4 cup each that Ellie suggests in the book.
Combine honey and peanut butter in a large pot and heat over medium-low heat until melted, about 2-3 minutes. Add brown rice cereal and cherries and stir to combine until mixture is sticky. Press into a 9 by 13-inch pan sprayed with cooking spray. Let cool, then chill in refrigerator for 30 minutes. Per Serving:
Calories 160; Total Fat 5 g; (Sat Fat 0.5 g, Mono Fat 0 g, Poly Fat 0 g) ; Protein 3 g; Carb 26 g; Fiber 2 g; Cholesterol 0 mg; Sodium 35 mg.