Junebug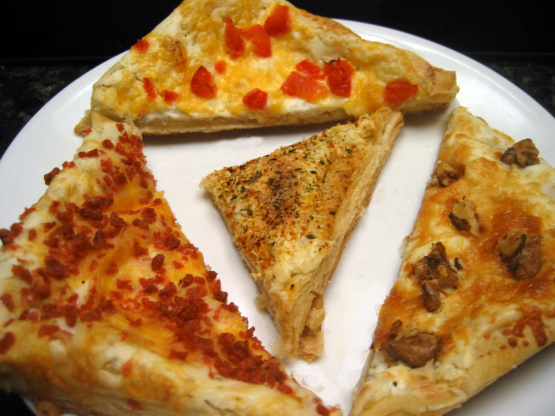 Easy little Alsatian pizzas.

These were quick and easy to prepare and tasted great! I had contacted the chef before making them as I couldn't find quark so I subbed cream cheese and it worked beautifully. I used one sheet of pastry dough, which I cut into four squares. I softened about 2/3 of a 8oz. package of cream cheese, stirred in a sprinkling of nutmeg and enough cream (1T?) to make it spreading consistency. I spread a fourth on each pastry square. Then I topped one with grated parmesan cheese and walnuts, one with cheddar and bacon, one with cheddar and roasted red peppers, the other with garlic and herbs. I baked them 15 minutes til golden brown on bottom. Removed them from the oven then sliced them in half and/or quarters to make triangles. I served them with salads. My DH and I both really enjoyed these and the creamy texture of the filling. The parmesan and walnut was our favorite. Although the cheddar and roasted red pepper was a close second for me! These are delicious and totally flexible. The recipe went straight into my Keeper recipe book. Thank you for sharing your recipe littleturtle!
On a lightly floured surface, roll the pastry to 1/8-inch thickness.
Cut into disks about 3-1/4 to 4 inches in diameter and place on a wax paper-lined baking sheet.
Leave in freezer until dough is frozen.
Mix together quark, cream, nutmeg, salt and pepper.
Preheat oven to 400°F.
Remove crusts from freezer.
Poke pastry with a fork.
Spread cheese mixture equally on each crust.
Sprinkle with onion and bacon.
Bake on bottom rack of oven for ten minutes, or until bottoms of pizzas are a dark, golden brown.
Serve warm.