Kathy228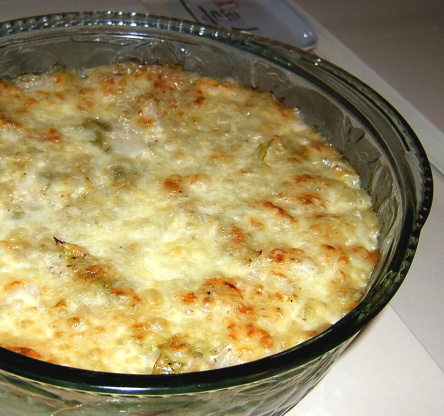 In Italy, no good cook would even consider throwing away stale bread when it can be used to thicken an earthy and awesomely delicious soup like this one. Whole wheat, rye, sourdough, even white-all will do! Yum! Adapted from Moosewood Restaurant New Classics cookbook.
Preheat oven to 350°F.
Bring a large pot of water to boil.
Spread the bread cubes evenly in a 9"x13" casserole dish or 2 quart ovenproof dish. If the cubes aren't dry, toast them quickly in the oven. Melt 3 tbsp of the butter and drizzle over the bread. Set aside.
When the water boils, blanch the cabbage just until tender, about 2 minutes. Drain well. Spread cabbage over the bread. Melt the remaining 2-3 tbsp butter and stir in nutmeg, pepper, and salt. Pour the seasoned butter on the cabbage and bread. Pour the broth over everything and evenly spread the cheese on top.
Bake until the cheese melts and starts to brown, 25-30 minutes.
Serve immediately. Enjoy!