Alpine Beef Goulash with Noodles
Parsley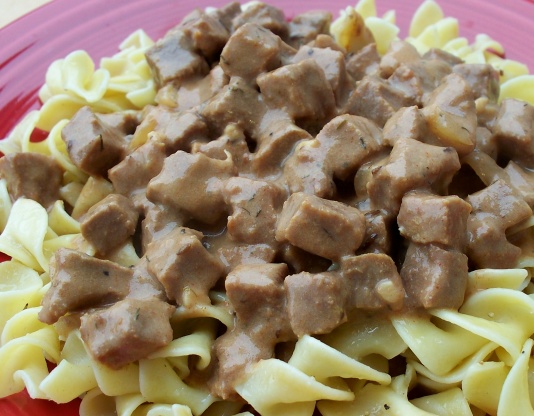 Wonderful goulash recipe; another one of my moms.

Super recipe! I altered it a little bit to suit me and my family's tastes, which I do with almost all recipes. I omitted the dill and caraway, and added a tsp of chili pepper and two beef bullion cubes (because of the bullion cubes I didn't need to add any extra salt). I also omitted the sour cream (for dieting reasons mainly :), but served it on the side. I also added a beef shin (soup bone) for flavor. While I was browning the beef cubes I browned the shin bone in a frying pan in one tbsp of olive oil. Once I combined the browned beef cubes with the other ingredients in the main pot, I added the beef shin. After about 2 hours or so, I removed the shin bone and cut the meat up into little pieces and threw them back into the pot. I also added approx. 1 cup of water throughout the cooking process to make a nice gravy - it was still very thick, not runny at all! I was able to buy some sweet Hungarian Paprika at a gourmet food shop - yum! The house smelled sooo good! The next time I make this I'll probably cut the recipe in half. I ended up eating Goulash five times in one week! I suppose this is just a testament to how good it turned out! I tried it over egg noodles and over brown rice - personally I preferred the rice, but both ways tasted great. Thanks for an awesome recipe! This one's a keeper!
Brown beef in oil; add onion and garlic, and saute until tender.
Add tomato sauce and all seasonings EXCEPT sour cream and noodles.
Cover and cook SLOWLY about 2 1/2 hours.
Add sour cream just before serving (do not BOIL after adding sour cream).
Serve over hot buttered noodles.