loof751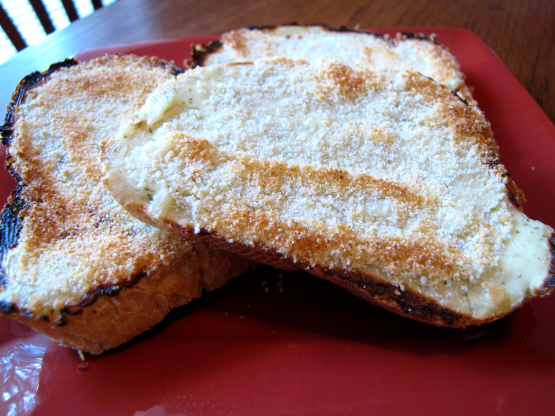 Quick, easy & very good bread.

When I went to the market, I couldn't find fresh French bread, so I grabbed a fresh loaf of Italian bread. It is thicker and less dense than French bread. Made with Italian bread, this wasn't crispy. Instead the top got too brown, while the bread itself didn't crisp up. I'm sure it would be wonderful with thinner French bread....I'll try again once I can find it. The taste of the Alouette cheese was wonderful, so I'm sure it would be a great spread for garlic bread.
1

loaf French bread

1

(4 ounce) package garlic & herb spreadable cheese
parmesan cheese, grated
Slice bread in half, lengthwise. Spread with cheese.Sprinkle with parmesan. Broil until cheese melts.