Aloo Paratha (Indian Potato-Stuffed Flatbreads)
skat5762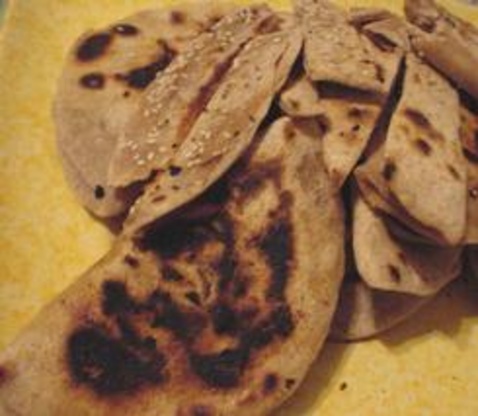 This Indian-styled stovetop bread is a wonderful addition to any meal. However, it has been my humble experience that it goes fantastically with Chef Dave's Roasted Eggplant Soup!

These were delicious!!!! The only thing I did really different was in the filling. I sauted 1 small onion and added it to the filling. I dont like olives so I left them out. I chopped the potatoes as charishma did to cut down on cooking time. I used more wheat flour than white flour, and lemon juice for the citrus juice (which worked excellent!!). They were just spectacular! Thank you so much for an absolutely wonderful recipe!!
Boil potatoes in salted water to cover, until tender.
While potatoes cook, mix the flours, cumin, and 1 teaspoon of salt.
Add 2 tablespoons of oil, then water.
Mix until this becomes a defined (albeit sticky) ball of dough.
Remove and knead until smooth, adding flour or water as necessary.
Cover dough with plastic wrap and set aside while preparing potatoes.
When potatoes are finished (tender), remove, drain and mash them with cayenne, salt, pepper, citrus juice, olives and 1 tablespoon of oil.
Taste and adjust seasonings as necessary.
On a lightly floured surface, roll dough into 12-inch long snake and cut into 12 pieces.
Roll each piece into about 4-inch round.
Spoon 1-2 tablespoon of potato mixture into round, then fold over edges to enclose completely.
Pinch dough closed and press down to distribute filling evenly.
Heat a large cast iron pan over medium-high heat for 2-3 minutes.
Add another tablespoon of oil to skillet, then pour out (you just want a thin film of oil on pan).
Cook each bread for about 3 minutes per side, until brown spots appear.
Repeat until all are done.
Serve hot or room temperature.