digifoo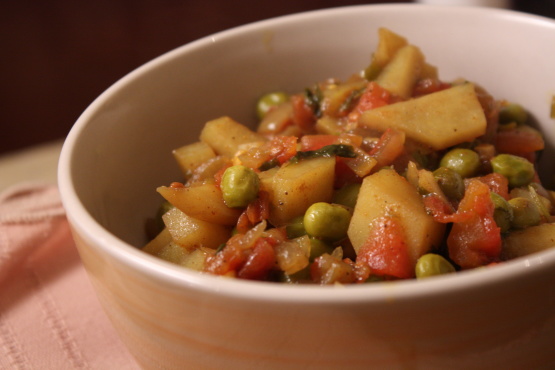 An Indian potato and pea dish.

Absolutely delicious! I made a double batch and it was fantastic. The only changes I made to the double batch were cutting the roma tomatoes into much smaller chunks (1/8 size or even smaller) so they would simmer down completely and simmering for closer to 45 minutes (instead o f 25) to thicken the sauce even more (my pan was wide and that may have caused the process to slow down). Because we really like potatoes (I used red), I added 2 more than the double recipe called for. If you like potatoes, that worked fine but you do end up with less sauce for the amount of potatoes. Next time I'll stick with the recommended amount. Great recipe!! Thank you!!
Heat oil in the pan, and add the onions in along with the ginger garlic paste. Cook for 1 minute
Add in the cloves, cinnamon stick, and bay leaves. Sauté for 2 minutes Add the garam masala, chili powder, turmeric, coriander powder, tomatoes and salt.
Add in your diced potatoes, and peas. Mix and pour in 1 cup of water. Bring to a boil and then reduce the heat, cover and simmer for 25 minutes.
Serve with Indian flatbread or rice.