Aloo Matar Ki Sabzi (Potato N Peas Curry)
Nasseh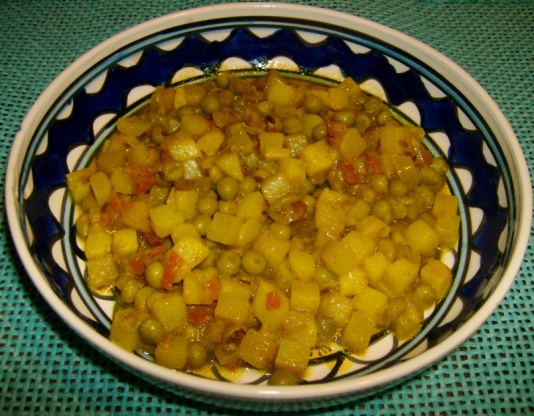 posting here for safe keeping!!

Top Review by Nasseh
My vegetarian neighbor loved this dish while DH thought it was just ok. The amount of salt listed seemed way too much so I reduced it to 1 tsp instead of 1 tbsp. I also only put 1 tsp of powered coriander since I wasn't sure if it meant 1 tbsp of coriander seeds or powered coriander. Made for Fall PAC 2008
Heat oil and add the cumin seeds and the bay leaves.
When the seeds begin to splutter, add the onion paste and saute till fat separates.
Add the tomatoes or puree, turmeric, salt, garam masala, red pepper and the coriander powder, and stir-fry till fat separates.
Add the peas, potatoes and the green chillies and saut?ver high heat till the vegetables look glossy.
Add 2 cups of water; bring to a boil and simmer, for 10-15 minutes.
Serve hot, garnished with the coriander leaves.