eatrealfood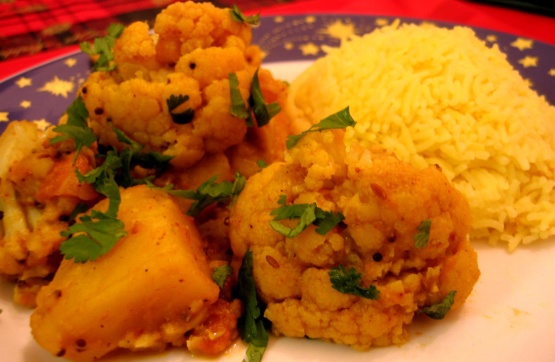 Great aloo gobi recipe from the film Bend It Like Beckham

Wow--this was fantastic! I followed the recipe to a "T" using 1 large (1 lb 12 oz) can of diced tomatoes. I cooked for about an hour I would say, then refrigerated overnight and reheated the next day. I wonder if this gave time for the flavors to meld, because it was delicious. I served it with homemade naan, recipe 203261. Even my hubby, who is an avid meat-eater, loved it and said it was better than anything he's tasted at a restaurant. Would DEFINITELY make this again!
Heat vegetable oil in a large saucepan.
Add the chopped onion and one teaspoon of cumin seeds to the oil.
Stir together and cook until onions become creamy, golden, and translucent.
Add chopped coriander stalks, two teaspoons of turmeric, and one teaspoon of salt.
Add chopped chillis (according to taste) Stir tomatoes into onion mixture.
Add ginger and garlic; mix thoroughly.
Add potatoes and cauliflower to the sauce plus a few tablespoons of water (ensuring that the mixture doesn't stick to the saucepan).
Ensure that the potatoes and cauliflower are coated with the curry sauce.
Cover and allow to simmer for twenty minutes (or until potatoes are cooked).
Add two teaspoons of Garam Masala and stir.
Sprinkle chopped coriander leaves on top of the curry.
Turn off the heat, cover, and leave for as long as possible before serving.