ImPat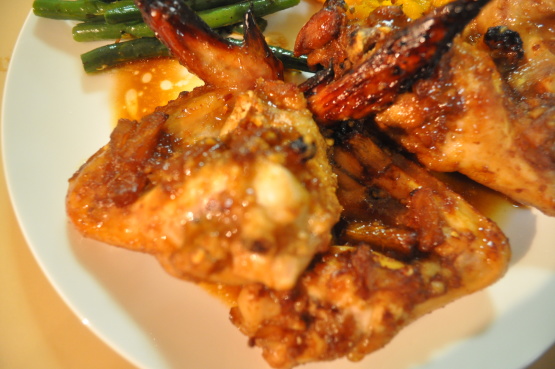 These wings sound so good. Can't wait to try them.

Top Review by ImPat
We really enjoyed this and were smacking our lips and licking our fingers by the end of the meal (one person even licked the plate). I used 8 chicken wings which had a weight of just over 1K (2lb) and used the full recipe quantities, I didn't have crushed pineapple but had sliced (in juice not syrup) and finely sliced up 2 rings to give me the quantity I needed. Put the wings in a 13x9 pan (just fitted) and poured over half the marinade (I find cooking in the marinade keeps them more moist) at the half way point 20 minutes I put in the rest of the marinade and cooked for a further 20 minutes and the end result sweet perfect wings and a sauce well was wishing I had rice to soak it up with but served with recipe #94213 which was a nice herby tasting contrast to the sweetness of the wings. Thank you lazyme, made for Went To The Market.
In a large mixing bowl, whisk the soy sauce, crushed pineapple, hoisin, crushed pepper, vinegar, honey, brown sugar, garlic, ginger, and rum.
Place the wings in the marinade, making sure they are thoroughly coated.
Marinate for 4 hours in the refrigerator.
Preheat the oven to 375.
Remove the wings from the marinade with tongs. Reserve the remaining marinade.
Place the wings on a 2 inch deep baking dish, making sure you spread them out flat.
Bake for 15 minutes, then turn and baste with the remaining marinade.
Bake for an additional 10-15 minutes, or until browned and cooked through.