Aloha Hawaiian Banana Bread
twissis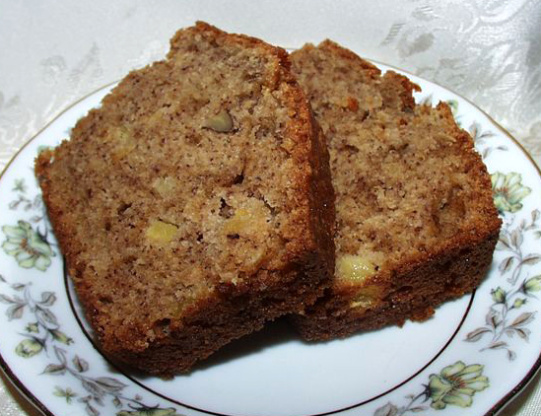 I love this recipe because it uses really ripe bananas that you can catch on sale so it saves money and because Splenda works well in it. I've never tried the other national brands of artificial sweeteners, so I can't comment on how they'll work. You can also make this with regular sugar. If you do, OMIT the honey. Macadamias are very expensive, but wonderful in this recipe. Pecans and walnuts work just as well. Use either or a mixture of the two for an extra kick. Try it for breakfast with a cup of hot tea or coffee. This recipe yields 2 good size loaves so you can enjoy one now and freeze the other or pass it along to a friend.

This recipe is FABULOUS!!!! I used King Arthur Organic All Purpose Flour and crushed pineapple packed with Splenda. I followed the directions to the letter and the bread came out fantastically. I highly recommend this recipe. This is one of the very few recipes that you can make for the first time and trust that, if you follow the recipe exactly, you can take it to a party, potluck, function with complete confidence.
Your will need two (8 1/2x4 1/2x3) loaf pans.
Preheat oven to 350 degrees.
Spray two (8 1/2x4 1/2x3) loaf pans with Bakers Joy (or grease and flour) and set aside.
In a medium bowl, combine the first 5 ingredients and stir with a wire wh.isk to blend well.
Stir in nuts to combine and set aside.
In another bowl, combine the eggs, oil, mashed bananas, pineapple, vanilla and honey (if you're using Splenda) Stir lightly just to mix.
Add the wet ingredients to the dry and mix only enough to moisten the dry.
DO NOT overmix or your bread will be tough and heavy.
Its ok to have some lumps.
Spoon the dough into the two pans,making sure to divide it equally between the two.
Bake for about 1 hour to 1 hour 10 minutes.
A good rule of thumb is to check after about 50 minutes.
Insert a toothpick or bamboo skewer into the center to test for doneness.
This bread will crack--don't worry.
Once done, remove to wire racks and cool for about 10-12 minutes in pans.
Turn the bread out carefully onto the racks.
Allow it to sit for about 15 minutes upside down, then carefully turn right side up to finish cooling.
As with any bread, slice with a serrated knife and enjoy.
Just a note--if you use Splenda or any artificial sweetener, the shelf life will be shorter and texture may not be the same than if you had used real sugar.