Almost Companion Bread's Baked Eggs
karen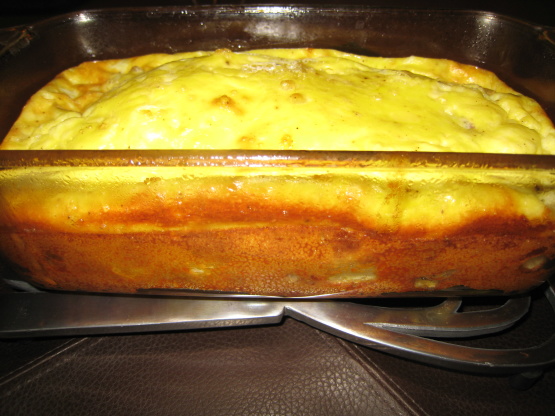 Companion Bread in St. Louis makes the best baked eggs I've ever had. They have several versions in the cafes and have posted the potato version that inspired this recipe at http://www.companionstl.com/baked-eggs-potatoes/. My version came from an effort to lighten it up by not using cream. I also made a few changes based on personal taste and what I happened to have in the house when I decided to give this a whirl.

This was really good. I added half of an onion, chopped, to the potatoes. I would add some chopped red pepper, parsley or something else to give a little color. I made half the recipe, and this was two good sized servings. My potatoes were not golden brown at 20 minutes, and because of schedules, I used them as is, as they were tender. I used far less salt - a few grinds of salt for the potatoes and another grind for the sauce.That bit of mustard really added flavor.

I suggest that you not start the sauce until the potatoes are nearly done - they can sit around a few minutes better than can the sauce. I used the full amount of the cheeses - the fresh mozzarella in part because I used a 6x6 baking dish. It took longer to bake than I thought. So I will make this again some morning when I don't have a timetable to meet.
Preheat oven to 450 degrees.
Toss potatoes with olive oil, rosemary, 1 tsp kosher salt and pepper.
Roast potatoes on a jellyroll pan at 450° for 20 minutes until golden and crispy.
While potatoes are roasting, melt butter in small saucepan or pot.
Add flour to melted butter, stirring to make roux. A little at a time, stir in milk. Heat on medium until sauce thickens.
Remove from heat; add parmesan and Durkees or mustard.
Whisk eggs in bowl and add small amount of heated milk mixture to temper.
Slowly combine tempered eggs and remaining milk mixture and whisk until smooth.
Season well with 1 tsp kosher salt and black pepper.
Spray loaf pan with cooking spray and place roasted potatoes in the bottom of the pan.
Top with mozzarella and ricotta cheese.
Pour eggs over potatoes but do not overfill.
Bake at 375° for 25-35 minutes until puffed and lightly browned. Eggs will fall once removed from oven.
NOTE: The cafe also serves a version with bacon or with just cheese (no potatoes in either), so feel free to experiment with extra ingredients. I think that this would be great with mushrooms too.