COOKGIRl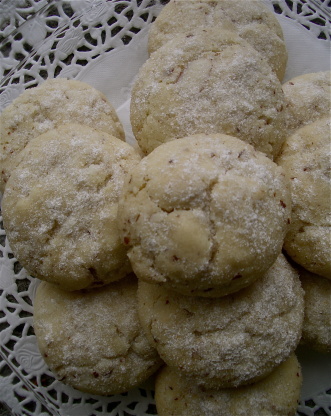 These easy crispy almond cookies are perfect with a cup of tea.
1⁄2 cup sugar
3⁄4 cup butter (room temperature)
1⁄4 cup vegetable oil
1 1⁄2 teaspoons almond extract (or to taste)
1⁄2 teaspoon baking soda
1⁄8 teaspoon salt
2 1⁄4 cups flour
1⁄2 cup almonds or 1⁄2 cup walnuts, finely chopped
Preheat oven to 350ºF.
In a mixing bowl, cream sugar and butter.
Beat in the oil, extract, baking soda, salt, flour, and nuts.
Mix well and form into small balls (3/4-inch).
Bake for 12-15 minutes on a greased cookie sheet.
Roll in powdered sugar and cool on cake rack.