stacato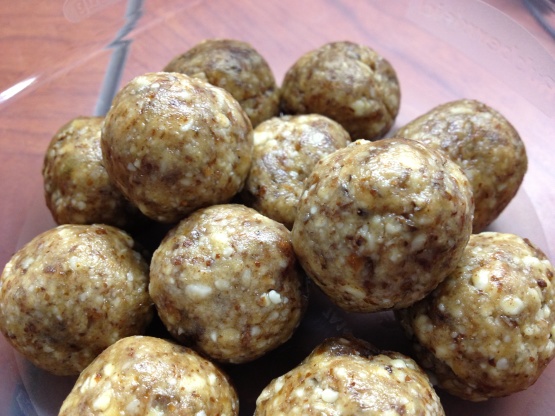 Very Middle Eastern and very tasty. A somewhat sophisticated brunch treat if you will, and would also make awesome finger food for tea or a dinner party. Especially if it's one of those where the meal is light but hors d'oeuvres are heavy. And can you believe this awesome treat is healthy and vegan? I couldn't! For some ideas, try a mix of Chinese red dates (I used 100%) with traditional dates. Put in a dash of ground pistachio and/or cardamom, how about a teensy bit of honey? There's a lot more I plan on doing with that huge thing of almonds I bought at BJ's. Found on the internet somewhere, don't remember where. If this is your recipe or you know where it came from, just drop me a line so I can give credit where it is due.

they were very good, but it took much longer than 20m to make. i rolled them into much smaller balls and got more than 50. but even if i had done the larger balls, it would have taken about 40m to pulse everything and roll.

dusting them in chocolate might be nice, too.
2

cups sliced almonds (I just used whole almonds)

1

teaspoon cinnamon

2

teaspoons tahini

18

medium dried dates (They MUST be pitless. I use pitless Chinese red dates, which are small, so I used about 25)
Grind almonds and cinnamon in food processor until finely chopped.
Add tahini and continue to pulse.
Add dates and chop until all blended in (be careful with pits!).
Form into 1" balls and refrigerate.
Can be eaten chilled or at room temperature, and they also travel well so they make a good brown-bag dessert.