Pumpkie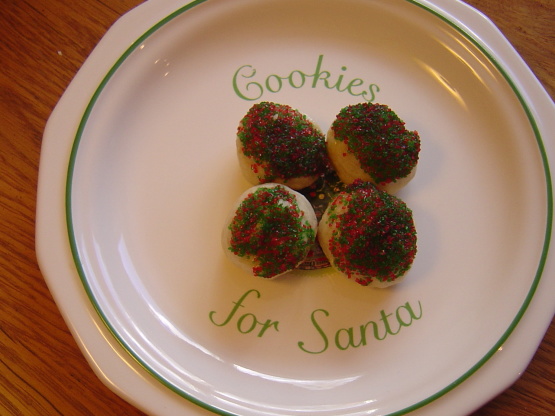 These Christmas cookies are so pretty, with a sweet almond paste surprise in the center, topped with a tasty almond glaze and a sparkling coating of edible glitter or coarse sugar crystals. They look like they take forever to make, but only you need to know how easy they are! Yield is approximate - these cookie recipes come out differently every time (so it seems to me...).

Thank YOU for a wonderful addition to my Christmas Cookie tray. These delicate cookies are delicious. The almond paste in the center truly make this a tasty morsel. These cookies are keepers and will continue to make an appearance on my cookie trays for many years to come.
Preheat oven to 375 degrees F.
Beat or mix together flour, butter, powdered sugar, milk, and vanilla.
Cut the almond paste into 1/2-inch slices, then cut slices into 1/4ths.
Shape 1-inch ball of cookie dough around each piece of almond paste; roll gently and form a ball.
Place 1 inch apart on an ungreased cookie sheet.
Bake 10 to 12 minutes or until bottoms of cookies are golden brown.
Remove to a wire rack.
Cool for 30 minutes; dip tops into Almond Frosting, then into glitter or coarse sugar.