flower7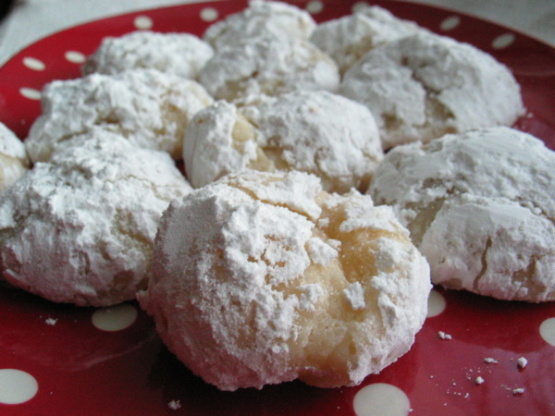 These are a great sweet treat to serve with coffee. They are very simple to make and only have 3 ingredients. You can serve them as is or in small paper patty cases. I usually make a double batch. They keep well in an airtight container- though dont last more than a few days in my home! As a bonus this recipe is also gluten free as it has no flours- just ensure you use pure icing sugar in the recipe.

A direct quote: "I don't like almonds, but if I did like almonds, I'd give this five stars." I guess that about says it all! They were really easy to make ... the hardest part was finding almond flour! When I finally did find it, it was so expensive that I decided to just grind my own. I used a 9-oz can of almonds, and I had plenty of "flour" left over... but I only got 14 snowballs, not 24! Thanks for posting. Made for Photo Swap, January '08.
1

cup ground almonds (measure 1 cup from ground almonds or almond meal)
3⁄4 cup icing sugar, plus extra to dust (confectioners sugar)

1

egg white
Preheat oven to 160°C ( 325°F ).
Process ground almons in a food processor until a paste forms. This shoud take a couple of minutes. Use shorter bursts on the processor until completed.
Add icing sugar and eggwhite and process until combined and smooth consistency.
Roll 2 teaspoons of mixture at a time into balls. Then roll each ball into sifted icing sugar to coat thickly. (I make mine on the small side- will fit into a chocolate paper/foil wrapper after being cooked. You can make larger ones if you wish).
Place on baking trays lined with baking paper and bake for 10 minutes. They will puff up as they cook.
Cool on trays and then store in airtight containers.