ImPat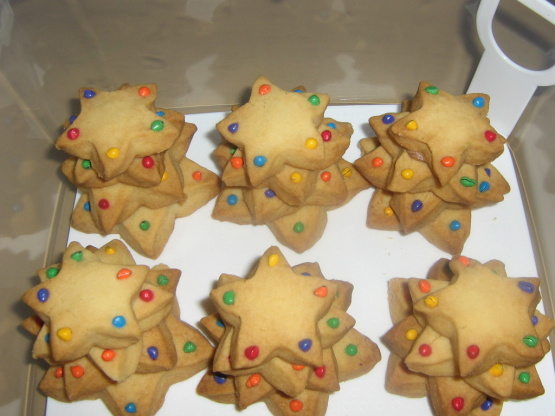 My favourite shortbread recipe I have been making for a few years now, My family love to recieve these shortbread at Christmas time. You dont really taste the almond in these but it gives it a nice flavour or texture... just something! I like making these in heart shapes.

Top Review by ImPat
This would have to be one of the best shortbread recipes I have made - I did use a food processor to mix everything and ended up with a wonderful smooth dough that needed very little kneading to bring it together. My original plan was to make different size stars and assemble them into Christmas Trees cemented together with recipe #32109 but can't get the star shapes till later in the week so made these in Christmas shapes as a trial run for next weekend. I got 27 shapes all together. I baked them for 25 minutes at 160C (fan forced) but the smaller ones will a little overdone but still tasted wonderful, just melting in your mouth, so next time I will lower the temperature to 150C at check them at 20 minutes. Thank you dizzydi for a great recipe, made for Edition 8 - Make My Recipe. UPDATE have since made again cutting them into stars (4 different sizes) and gluing them together with icing sugar mix (decorated points with coloured candy) and assembled them as Christmas Trees.
Sift flours and icing sugar.
Rub in butter using fingertips till mixture resembles dried bread crumbs.
Press together and knead gently.
Roll out to 1cm thickness and cut out shapes.
Bake in 160 degrees celsius oven for 25-30 minutes till light golden colour.