truebrit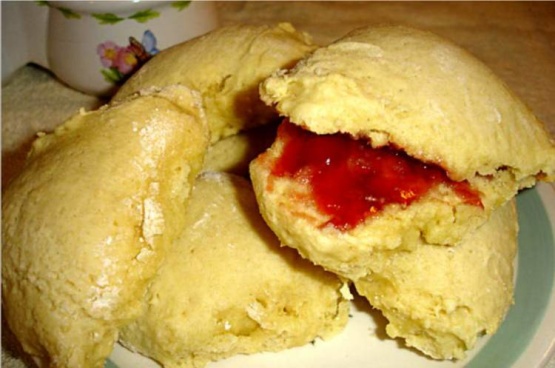 Great with a cup of tea or coffee for a snack, but equally at home on the breakfast or brunch table.

I thought that I had ruined these! I made the dough and had patted the first one onto my pan when I realized that I had forgotten to add the egg! So I put it all back in the bowl and added the egg. It made it very wet and I was sure I had ruined these, but they turned out beautifully! I used whole wheat pastry flour instead of the white and soy milk. I also used organic fat free vanilla yogurt. Like Truebrit mine did not brown but they were enjoyed none the less! My picky 5 year old really enjoyed them. I served them as part of "breakfast for dinner" alongside veggie sausage, pancakes, and fruit. Heavy on the carbs but very delicious!
Pre-heat oven to 350°F.
In a large bowl, mix all the dry ingredients (powdered almonds through sugar).
Add the butter cubes, and massage them into the dry ingredients with your hands until you can no longer discern them; the mixture should look crumbly/sandy.
Add all remaining ingredients (EXCEPT powdered sugar), mixing with a wooden spoon until they are completely incorporated, but do not over-mix.
Divide the dough into 2 balls; it will be sticky but use a bit of additional flour to work.
One at a time, lay each ball on a well-floured surface; sprinkle the top with flour, then flatten with your (well-floured) hands into a circle about 8 to 10 inches and 1 to 2 inches thick.
Cut each circle into 8 wedges and place on a non-stick bake sheet (use a spatula if needed to facilitate the transfer).
Bake for 12 to 15 minutes, until the scones are puffed and golden in color.
If desired, dust with powdered sugar when cooled.