Almond-Raisin-Winter-Cookies
Katzen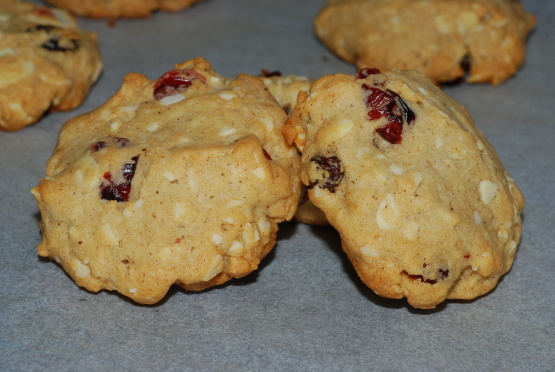 This recipe imakes for lovely seasonal cookies featuring cranberries, raisins and almonds. The texture is crumbly with a lovely crunch. I hope youll enjoy them as much as my friends and family did! :D

Top Review by Katzen
What pretty little cookies these are! As Paula said, they have just a touch of sweetness - I think I would add a bit more sugar next time I make them, as my crowd likes their cookies a little on the sweeter side. They puffed up beautifully, and the spices and nuts and fruit were lovely in these. Thanks for another great recipe, Laura! Made for Veggie Swap 20.
Roughly chop the almonds. Set aside.
Cream butter, sugar and egg until frothy.
In a second bowl mix flour, baking soda, spices and salt. Add this to the butter mixture gradually.
Fold in almonds, raisins, cranberries and mix with a spoon.
Using your hands form dough balls the size of a walnut.
Place on a paper-lined baking tray and flatten slightly.
Bake in the preheated oven at 170°C/350°F for 15-20 minutes.