Almond Pork Tenderloin With Dried Cranberry-Apple Conserve
Redsie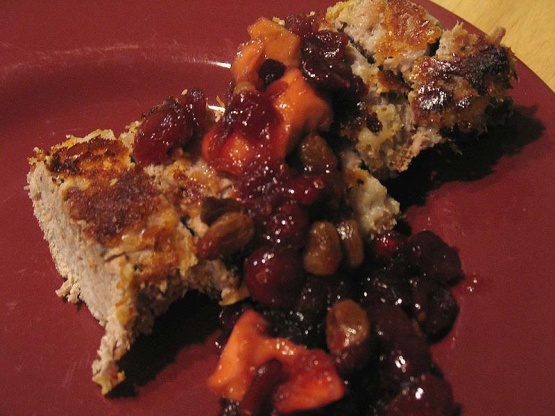 A great Cooking Light recipe. Was enjoyed by my bf ... who doesn't like pork!! :). I used "Panko" (which is Japanese breacrumbs).

Top Review by zoo66
This was delicious. Following the advice of reviewers on the cooking light website, I cut the breadcrumbs down to 1 cup (I also used panko) and I still had more than enough to coat two 1lb tenderloins. The conserve is amazing. It was so good and I agree with DDW that it could be used for many other recipes...or even just spread on toast, it is that good.
Conserve:.
Combine the first 5 ingredients, cover and let stand 30 minutes.
Combine vinegar and next 5 ingredients in a small saucepan, and bring to a boil, stirring mixture frequently. Add the fruit mixture. Bring to a boil; reduce heat, and simmer for 5 minutes. Stir in jam. Remove from heat, and cool to room temperature.
Meat:.
Preheat oven to 425°F.
Trim fat from pork. Combine breadcrumbs and next 4 ingredients in a shallow dish. Dip pork in egg whites; dredge in breadcrumb mixture. Place pork on a broiler pan coated with cooking spray. Insert a meat thermometer into thickest part of pork. Bake at 425F for 30 minutes or until thermometer registers 160 (slightly pink).
Cover with foil, let stand 10 minutes.
Cut into 1/4 inch slices.
Serve pork with Conserve.