teresas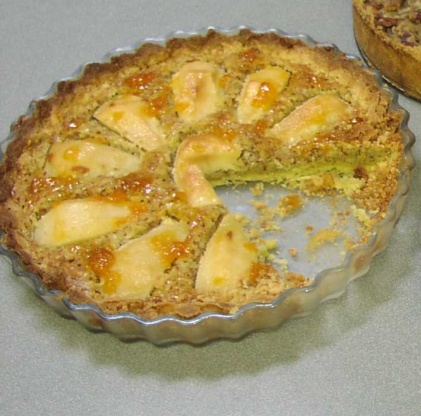 I have prepared this for most holiday get together for years. You can prepare pastry case up to a day before adding filling and pears. Bake up to 3 hours before serving. This holds up well and can be prepared in advance and served the next day.

Lovely presentation but the chewy texture of the almond flan is odd and the crust was not flavorful. Has potential and quick to put together.
Pastry: Combine all ingredients in processor, process until combined.
Remove to lightly floured surface, knead into smooth ball, cover, refrigerate 30 minutes.
Roll pastry large enough to line a 9-inch flan tin.
Filling: Cream butter and sugar together until just combined, add eggs one at a time beating well after each addition.
Fold in almonds and flour.
Spread filling into pastry case, place pear quarters over filling, bake in moderate 350 degree oven 35 minutes or until golden brown.
Brush with warmed sieved apricot jam.