2Bleu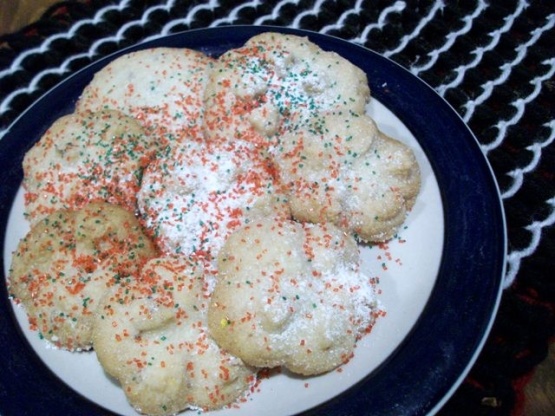 These little gems will melt in your mouth! Recipe is from Family Circle. The dough must refrigerate for 2 hours (not included in prep time).

These just weren't very good in my opinion. The almond extract adds too "fake" a flavor. I've tried other almond crescent recipes that relied on just almonds for the flavor and they seemed to have a much better and more natural taste.
Beat together butter and 1/2 cup of the confectioners' sugar in bowl until smooth and creamy. Beat in almond extract.
On low speed, beat in flour and nuts.
Wrap dough in plastic wrap; refrigerate until firm, 2 hours.
Heat oven to 325 degrees F. Pinch off pieces of dough in heaping teaspoonfuls.
Roll into logs and taper ends; bending into crescents.
Place on ungreased baking sheets. Bake in 325 degree oven for 16 to 18 minutes, until lightly browned.
Remove cookies to wire rack. While warm, dust with a generous layer of remaining confectioners' sugar.
Cool completely then sprinkle again with any remaining confectioners' sugar.