Almond Macaroons (Makroul El Louse)
Jubes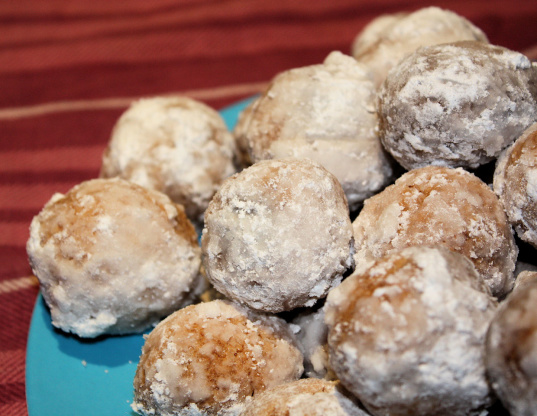 Posted for the Zaar World Tour 2006-Algeria. From the "Best of International Cooking" cookbook. I haven't tried this recipe yet, but they sound delicious.

Very sweet. That is what pulled it down a star as we found them too sweet. I used orange blossom water and it gave a wonderful North African flavour. I made these gluten free as well using a rice flour mix that was 1 cup white rice flour to 1/2 tapioca starch. I used blanched almonds and to be corn free I made my own powdered sugar in a coffee grinder which worked wonderfully. I wont make these again as they are too sweet for us.
Preheat oven to 350ºF. In a large bowl, combine almonds, 1-1/4 cup of the granulated sugar and lemon peel. Beat in eggs.
Divide almond mixture in half. Dust your hands with flour. With floured hands, shape each half of almond mixture into a roll, 1-1/2 inches in diameter. Cut each roll into 18 slices. With floured hands, shape each slice into a ball; sprinkle with flour.
Place balls on an ungreased baking sheet; bake 15 minutes, or until lightly browned. Cool on a rack.
In a small saucepan, combine remaining 1/8 cup granulated sugar and water. Bring to a boil, stirring constantly. Boil until syrup forms, 15 to 20 minutes; do NOT let syrup brown. Pour syrup into a shallow bowl. Cool, then stir in orange juice or liqueur. Dip baked macaroons into syrup, then roll in powdered sugar; set aside to dry.