HuldaW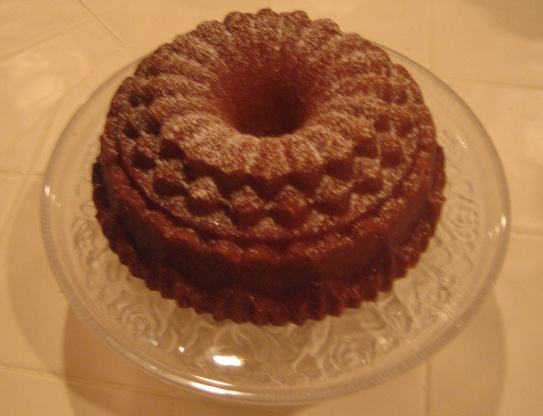 Tartine Bakery, San Francisco, CA
Note: the key to making this cake batter smooth is incorporating the almond paste completely before the eggs are added; the success of the glaze—a pretty crystallized look and a proper set—requires 2 things, the glaze must be made just before it is brushed on the cake, and the cake must be warm from the oven so the sugar and juices can penetrate it properly and form crystals.
Position a rack in the lower third of the oven; preheat oven to 350°.
Lightly butter and flour an 8 ½ inch tube pan OR a 9x5 inch loaf pan, knocking out the excess flour.
Make the cake: sift together the flour, baking powder, and salt twice.
In a small bowl, combine the eggs and vanilla; whisk just to combine.
In the bowl of a stand mixer fitted with paddle attachment, beat the almond paste on low speed until it breaks up.
This can take up to a minute, depending on how soft and warm it is.
Slowly add the sugar in a steady stream, beating until incorporated.
If you add the sugar too quickly, the paste won't break up as well.
Cut butter into 1 tablespoon pieces.
Continue on low speed while adding the butter, a tablespoon at a time, for about 1 minute.
Stop the mixer and scrape down the sides of the bowl with a rubber spatula.
Then turn on the mixer to medium speed; beat until mixture is light in color and fluffy, 3-4 minutes.
With the mixer still on medium, add the eggs in a very slow, steady stream and mix until incorporated.
Stop the mixer and again scrape down the sides; resume mixer at medium speed and mix for another 30 seconds.
Add in the citrus zest and mix in with a wooden spoon.
Finally, add the flour mixture in batches, stirring after each addition until incorporated.
Scrape down the sides of the bowl one last time; spoon batter into prepared pan; smooth the surface with an offset spatula.
Bake 45-50 minutes, until the top springs back when lightly touched and a pick comes out clean; let cool in pan on a wire rack for 5-7 minutes.
Meanwhile, stir together the lemon and orange juices and sugar in a small bowl.
Place the wire rack holding the cake over a sheet of waxed paper or foil to catch any drips; invert the cake onto the rack.
Brush the entire warm cake with the glaze, then let the cake cool completely on the rack (the cake breaks apart easily when warm, so don't attempt to move it).
When the cake is cool, transfer it to a serving plate; serve at room temperature.