Almond Lemon Chocolate Chews #RSC
susan m.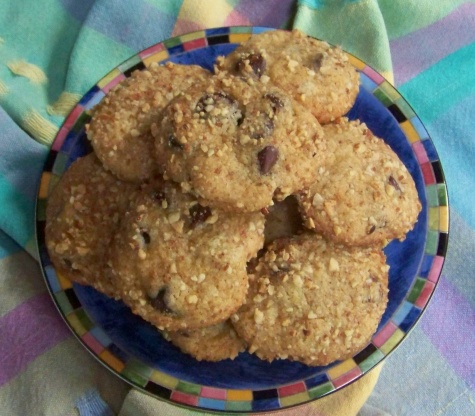 Ready, Set, Cook! Reynolds Wrap Contest Entry. This special little cookie is packed with flavor. It really has all my favorite flavors, Almonds, lemon and dark chocolate. The special bonus with this cookie is that it caramelizes on the bottom when it bakes. What more could you want? Crunchy, chewy, tender too.

WOW..Lemon, Chocolate and Almonds...Yummmyyy!!!
Wisk together dry ingredients. Set aside.
In a large bowl beat with a hand mixer (crumbled up or grated) almond paste, sugar, honey and butter until well blended. Add egg, zest and lemon juice. Beat until fluffy and light. Stir in dry ingredients. Stir in chocolate chips. Cover bowl with Reynolds wrap and refrigerate for at least 1 hour.
Preheat oven to 350 degrees. Line a cookie sheet with Reynolds wrap, and lightly spray with non stick spray.
Roll dough into walnut sized balls (1 inch). Roll in the almonds and place 2 inches apart on prepared cookie sheet and bake 9-12 minutes, or until lightly browning.
Let it set on sheet for 2 minutes and remove to a rack to cool.
Eat often!