gailanng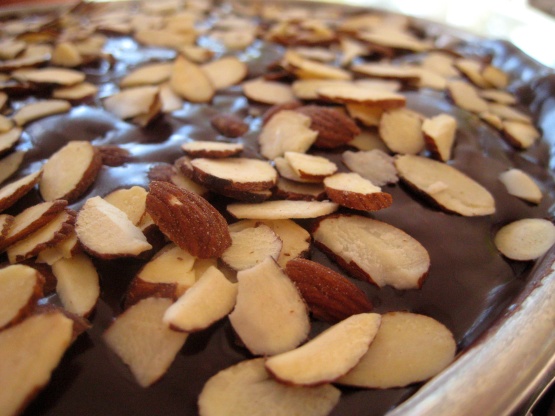 A delicious cake that tastes like my favorite candy bar. Servings are approximate depending on the size of the slices.

This is truly an award winning recipe. I made this and won second place in a baking contest. I only made a minor change. I reserved about 3/4 cup of the coconut and toasted it and put it on the top. I also put extra toasted almond on the top as a garnishment. It is soooo good. I would also recommend poking holes all around the cake to let the sweet mixture seep in. That sent it over the edge in yumminess!!
Bake chocolate cake in 13 x 9-inch pan as directed on box using the water, vegetqable oil and eggs that are listed in above ingredients.
Combine the 1 cup evaporated milk and the sugar in a medium saucepan.
Bring to a boil and stir in marshmallows until melted.
Add coconut; pour over cake while both are hot.
Melt together the remaining milk, butter and chocolate chips.
Stir until melted and add 1 cup toasted almond slices.
Pour on top of warm cake.
NOTE: This is better if made the day before serving.