Almond Disaronno Truffles
Rita1652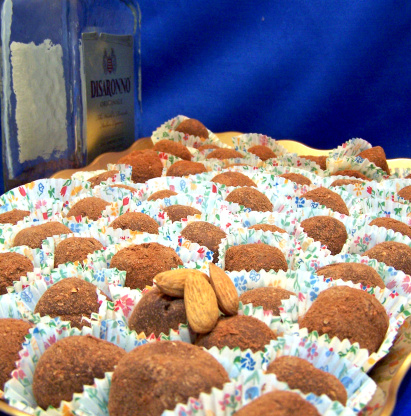 Tender rich little morsels flavored with almonds and almond liquor.

Great truffles. I got 45 using my melon baller (large end) and then rolled in my palms. I may add more liquor or almond extract next time. Need to let them sit for a few days before I decide. DH ate four of them when he got home so they must be good to go for him. I used Ghiradelli bittter sweet chocolate, wasn't sure as you didn't specify.
Truffles

3

cups chocolate chips (good quality)

1

tablespoon butter, Unsalted

1 -14

ounce fat-free sweetened condensed milk
1⁄4 cup almond liqueur

Coating

1⁄4 cup almonds, toasted

2

tablespoons cocoa
Melt chips and butter in microwave oven.
Add the condensed milk and almond liqueur and stir to combine.
Refrigerate till solid.
Scoop or slice pieces
Rolling into a size of a large marble.
Set aside.
In a food processor pulse almond till fine add cocoa and pulse to just mix.
Place in a storage bag.
Add a couple truffles at a time and shake. remove and reshape place into cute little candy cups.
Serve a room temperature.