Almond-Crusted Catalan Chicken
COOKGIRl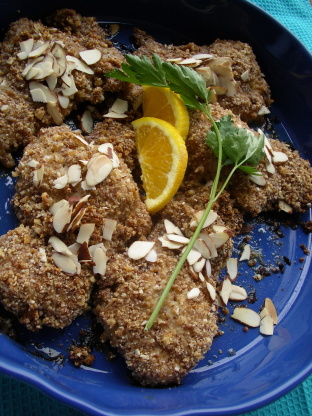 This really turns plain-old-chicken into something interesting. I've doubled this recipe and it works just as well. Goes great with some Basmati rice and a green salad. Prep time includes marinating the chickens. Use matzoh meal instead of breadcrumbs and this is perfect for Passover.

This is a great recipe. My husband really liked it and he is very picky.
In a large mixing bowl, make marinade by mixing together the mayonnaise, garlic, orange juice, orange peel, honey, 1/8 teaspoon of the cinnamon, 1/4 teaspoon of the salt and 1/4 teaspoon of the pepper.
Add the chicken, turning to coat.
Cover and refrigerate 1 hour, occasionally spooning marinade over chicken.
In a pie pan, mix together the remaining cinnamon, salt, pepper, breadcrumbs, almonds and olive oil.
Remove the chicken from the marinade and roll, one piece at a time, in breadcrumb mixture.
Place the chicken in single layer in a lightly greased shallow baking pan.
Bake in a 350°F oven about 1 hour or until crisp and brown and fork can be inserted in chicken with ease.