Boomette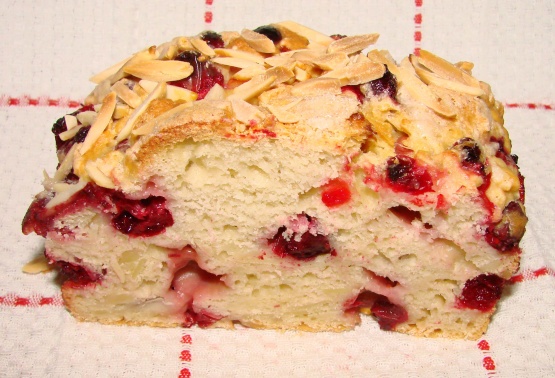 From Ocean Spray flyer. It has been a many years since I've made this bread but my notes say it is yummy! My notes also say I added a 1/4 cup of chopped almonds to the batter and then used another 1/4 cup of sliced/slivered almonds for the topping. So I've adjusted the original to include this but feel free to leave the chopped almonds out of the batter itself. **Updated 12/7/11 - I've adjusted the bake time for this bread. The original times were definitely too long for this quick bread **

A nice balance of sweet and tart. I used almonds in and on top, but will skip the ones on top next time, as they just fall off when slicing. The almond extract gives this a nice flavor. The bake time was a little long. I took mine out after 55 minutes, but it would depend on your oven. Mine may run hot.
Preheat oven to 375F and grease a 8x4x2" loaf pan.
Combine the flour, sugar, baking powder, and salt in a medium bowl.
Combine the egg, milk, butter, and almond extract in a separate bowl.
Add the wet ingredients to the dry ingredients, mixing just until moistened (do not overmix).
Stir in chopped almonds and cranberries.
Spread batter in loaf pan and then sprinkle with additional 1 tbls. sugar and then the slivered or sliced almonds.
Bake for 30 minutes.
REDUCE heat to 350F and bake for an additional 20-30 minutes or until toothpick inserted in center comes out clean.
Let cool 10-15 minutes before removing from pan to wire rack.