Belloo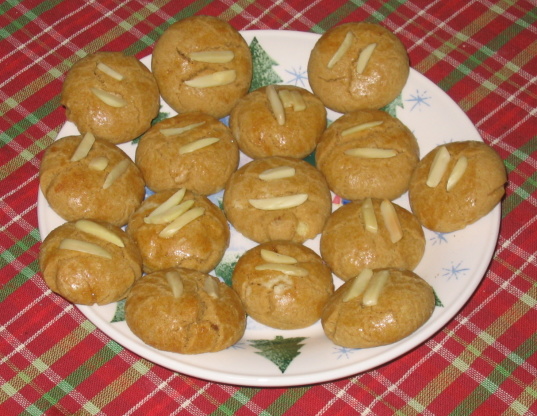 One of the cookies I make for Christmas. This is a recipe that comes from Holland, birthplace of my parents.
COOKIE DOUGH:
Cream butter with sugar until fluffy.
Beat in eggs, one at a time, and almond extract.
Stir together flour, salt, baking soda and powder; gradually stir into creamed mixture until well blended.
Cover and refrigerate for at least 1 hour or until firm.
FILLING:
Meanwhile, mix together filling ingredients until smooth.
ASSEMBLY:
Using hands, roll heaping teaspoonfuls of dough into 1-inch balls.
With finger, make indentation in centre of each; stuff with about 1/4 teaspoons filling. Pinch off dime-sized piece of dough; press over filling to cover.
Reroll in palms to seal and smooth edges.
Place 2 inches apart on greased baking sheets. Brush tops with egg white; press almond lightly into each.
Bake in 325oF oven for 15 to 18 minutes or until light golden.
Let cool on racks. Makes about 5 dozen.