Almond Chicken With Savory Plum Sauce
Linky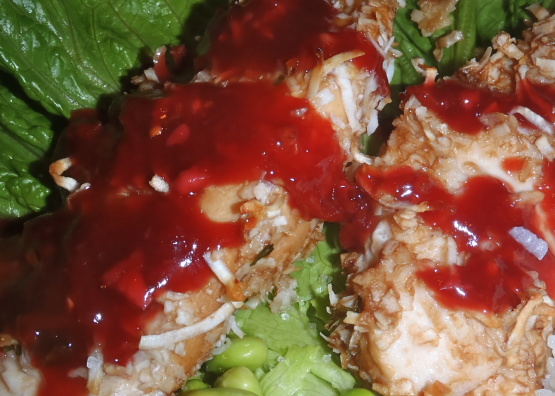 I've had this for years and don't remember where I found it.

Top Review by Linky
As you can see in the photo, I used coconut instead of almond. My friend who was over for dinner has a severe nut allergy and I didn't want to have to make a trip to the hospital! BUT - these were very good, even with unsweetened coconut. I will try next time with almonds. I was a little leery about marinating the chicken in a egg-soy sauce mixture; it turned out very good.
Preheat oven 375 deg.
Combine first four ingredients in plastic bag. Add chicken strips and marinate for 15 minutes.
Place almonds and parsley on waxed paper. Dip chicken strips into mixture to coat. Place chicken strips on a sprayed jelly roll pan and bake at 375 deg. for 16-20 minutes.
Plum sauce:.
Cut in half, remove seed and chop. Puree plums in a blender
Place puree into a sauce pan and add soy, cornstarch, sugar, ginger and garlic. Bring to a simmer and let simmer until thick about 10-15 minutes.
Or you may place in a 1 quart glass container, combine all ingredients and microwave on high uncovered for 8 minutes. Stirring every 3 minutes or until thick and clear.
Serve chicken strips with lettuce, sugar snap peas and sauce.