loof751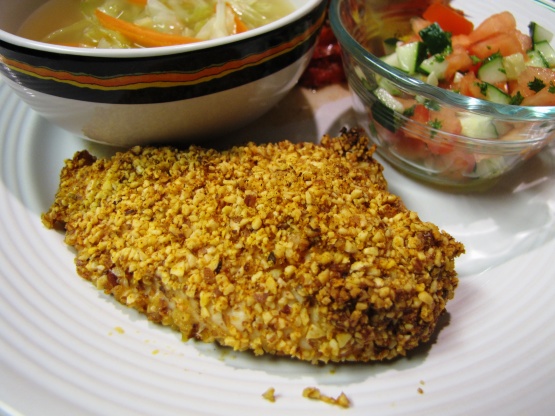 I found this recipe in a Betty Crocker International cookbook. It has quite a bit of flavor has a good crunchiness on the outside. It is Pakistani inspired. I hope you enjoy!

This is an amazing chicken recipe! I used boneless skinless breasts, otherwise made as directed and wouldn't change a thing. I cooked the chicken for 45 minutes and it was so moist and juicy and the crust was delicious. Thanks for sharing this keeper!
Pulse the first three ingredient in a food processor until they are in small bits and pieces.
Mix in the remaining spices and salt.
Pour almond mixture onto a platter and roll the chicken breasts in it coating all sides.
Place chicken in glass 13x9 pan and bake in a a 375F oven for about an hour or until each breast is done all the way through.