Almond Butter Cookies with Cream Cheese
Cabnolen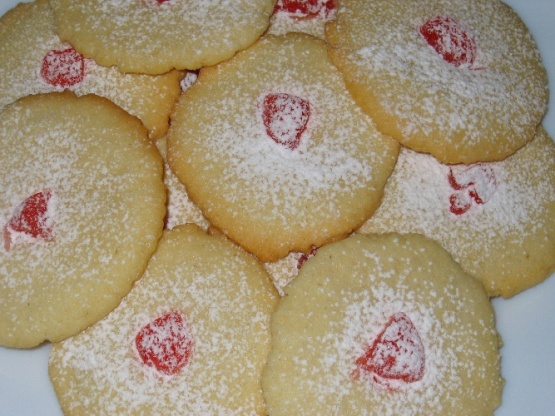 I have had this recipe for so long that I can't remember where it came from, but I think I got it out of a magazine or newspaper. I like it because you can use the dough in so many different ways. For the Holidays, you can press half of a candied cherry in the center of unbaked cookie, and then after baking drizzle with either white or dark chocolate, melted.

These were nice and soft, almost chewy and very easy to make. I used the drop method and sugar dipped glass to flatten. I think Hersheys kisses pressed into the center would also be delightful. Thank you for sharing this recipe Donna!
Cream sugar, butter, cream cheese until fluffy.
Add egg and flavorings.
Beat until smooth.
Add flour and baking powder, mixing well.
Drop dough by spoonfuls onto ungreased cookie sheets and flatten with a flat bottomed drinking glass which has been dipped in sugar.
OR: Force dough through a cookie press.
OR: Chill dough 1 to 1 1/2 hours and roll out on lightly floured surface.
Cut with cookie cutters.
Bake at 375 degrees for 8 to 10 minutes, or slightly less if you like a not-so-crispy cookie.
These cookies are best if they are not baked too brown.