Almond Bread (Cookie/Biscotti)
PaulaG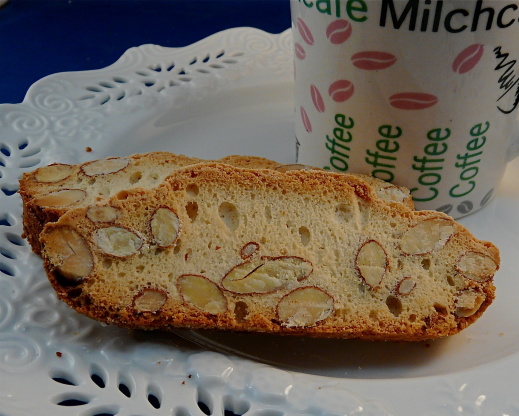 From Diabetes Australia The Ultimate Diabetes Cookbook in response to a request for sweet treats with nuts. Times are estimated and have not included standing time of 3 to 4 days. The name Almond Bread is a bit of a misnomer so have changed the title 30/4/2008.

Top Review by WiGal
Almonds are so good for you plus this biscotti is delicious! That two stage baking might really come in handy for busy people who need to bring treats to work. What a wonderful use for egg whites. I appreciated using HokiesLady review for conversions-350 degrees for first round and 300 degrees for second stage. 90 g flour = 3/4 cup plus 2 tablespoons, and 90 g almonds=1 cup. I used honey roasted slivered almonds ( always have them around) so that is why the photo looks like it has more texture. I do not have an electric knife so that is why mine looks a bit jagged. Next time I will bake them 5 minutes longer during the second stage to get them more brown. Thanks for sharing ImPat.
Preheat the oven to 180 degree Celsius.
Lightly oil a small loaf tin.
Beat the egg whites until stiff, gradually add the sugar and vanilla essence and continue beating until all is incorporated.
Fold in flour and almonds (or pecans if using).
Bake for 50 to 60 minutes.
Cool, wrap in foil and allow to stand for 3 to 4 days.
Slice the loaf very thinly with a electric knife.
Place the slices on a baking tray and dry out in an oven preheated to 150 degree C for 30 minutes.