UmmAzhar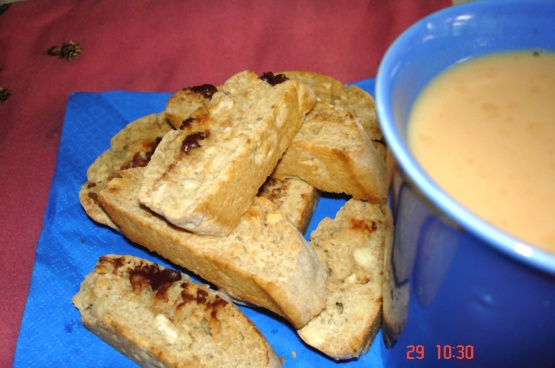 These dry cookies are delicious when served with a nice big cup of coffee after a meal.

Very Nice!!!!This being my first try at making biscotti,I chose this recipe as it needed only one egg..So even if it went wrong ,i felt that it would be justified that i did not waste my ingredients...But The biscotti were really nice..My husband thought it had the professional touch....It was easy to prepare and really tasted nice..But they did lack something..I couldnt put my finger to it..thats why the 4 stars... I will definitely make this again to see how they turn out the second time....Thank you for a easy and lovely recipe..!!!
Preheat your oven to 350°F.
Grease a large cookie sheet Whisk the egg, sugar, and vanilla extract in a mixing bowl with an electric mixer until it is thick and pale-ribbons of mixture should trail from the whisk as you lift it Sift the flour, baking powder, and cinnamon in a separate bowl, then sift into the egg mixture and fold in gently.
Stir in the chocolate, almonds, and pine nuts Turn out onto a lightly floured surface counter and shape into a flat log about 9-inches long and 3/4 inches wide.
Transfer to the prepared cookie sheet Bake for 20-25 minutes, or until golden.
Remove from the oven and let cool for 5 minutes, or until firm Transfer to a cutting board.
Using a serrated bread knife, cut the log into slices about 1/2 inch thick and arrange them on the cookie sheet.
Bake for 10-15 minutes, turning half way through the cooking time Let cool for about 5 minutes, then transfer to a wire rack to cool completely.