Karin...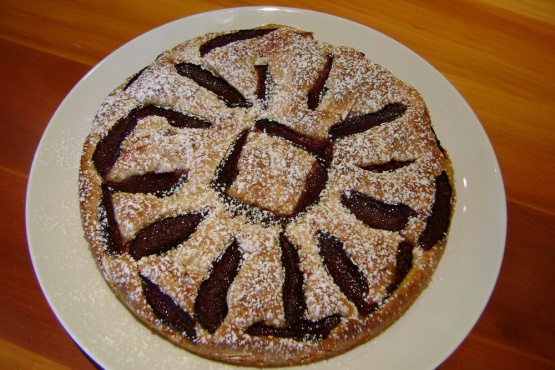 A very light cake perfect to have with a cup of freshly brewed coffee! This recipe is based on a recipe that my dear Mother passed on to me - the only difference between the 2 recipes is the addition of almond essence and slithered almonds.

Top Review by Jen T
A trip down memory lane :) This reminded me so much of a recipe my mother used to make too. We had this for dessert while still slightly warm with some softly whipped cream. The almonds take this to a higher level. Yum!! :) Mine did take longer than the 20mins stated to cook but that could be my oven. A real keeper for us . Thanks Karin :)
Cream butter and sugar.
Add eggs - one at a time and beat well.
Add the warm water and almond essence.
Add sifted flour and baking powder.
Stir well to make a mixture that will spread evenly in 20cm diameter tin.
Sprinke with slithered almonds.
Arrange sliced plums on top.
Sprinkle with sugar.
Bake in the oven for approx 20 minutes at 160'C.